Belarusian dictator Alexander Lukashenko signs a decree prohibiting the country's embassies from issuing or renewing passports for Belarusians living abroad, leaving the regime's critics vulnerable to prosecution if they return.
The Nobel Foundation withdraws its invites to Russia, Belarus, and Iran for the Nobel Prize awards in Stockholm, reversing its earlier decision after widespread criticism.
Meanwhile, Switzerland imposes additional sanctions on Belarus, targeting the country's military and technology sectors.
Subscribe to the Newsletter
Belarus Weekly
Minsk says a Polish military helicopter breached Belarusian airspace – claims that Warsaw calls "lies and provocations" from Belarus.
A former Belarusian "death squad" member goes on trial in Switzerland for allegedly participating in the forcible disappearance of Belarusian opposition politicians in the late '90s.
In another controversial move by the international sporting community, Russian and Belarusian athletes are given the green light to compete in World Aquatics events under a neutral flag.
Lukashenko orders Belarusian embassies to stop issuing passports
Lukashenko signed a decree on Sept. 4 prohibiting the country's embassies from issuing or renewing passports for Belarusians living abroad, a move that leaves the regime's critics vulnerable to prosecution if they return.
As of Sept. 7, Belarusians can only now obtain or renew their passports in Belarus at "consular services attached to their last registered place of residence." Embassies can now also confiscate a citizen's documents.
The new decree also requires that owners wishing to sell their real estate and cars either be physically present or produce a power of attorney signed inside Belarus.
Belarusian opposition leader Sviatlana Tsikhanouskaya warned Belarusians, saying "even if your passport expires, you should not return to your home country if you risk persecution. No document in the world is worth a person's freedom."
Tsikhanouskaya's legal advisor suggested the regime's move violates Article 3 of the Vienna Convention on Diplomatic Relations, which states that embassies are tasked with protecting the interests of the state's citizens abroad.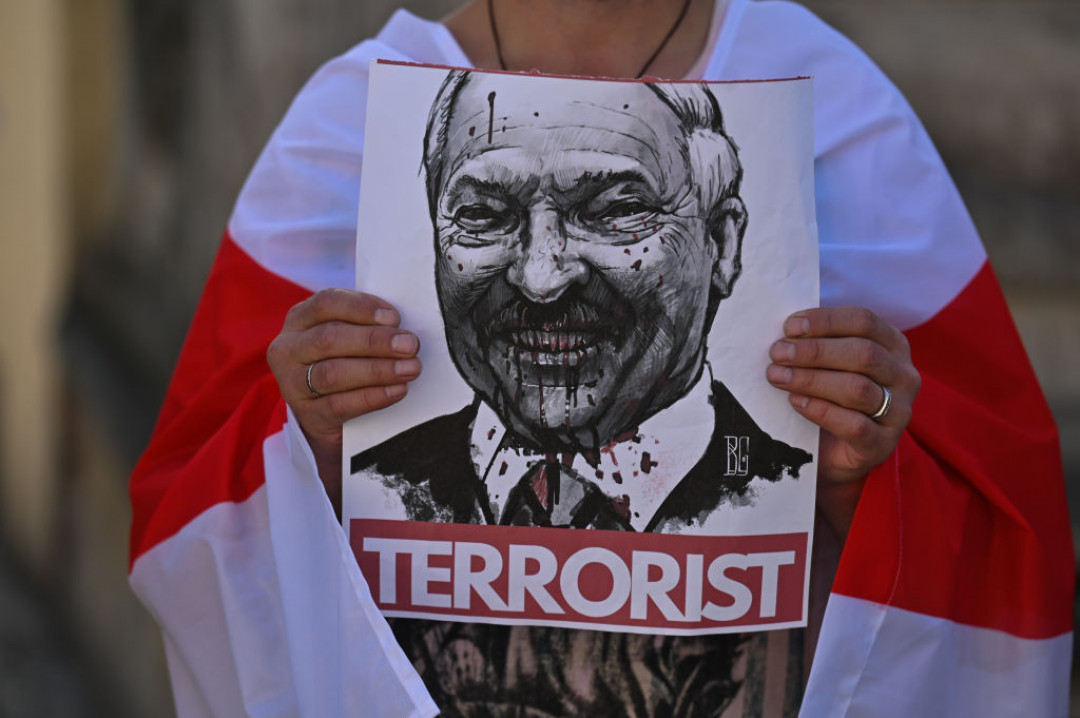 Belarusian authorities cracked down on those who oppose the regime following the fraudulent 2020 presidential election, which sparked mass protests.
According to Belarusian human rights watchdog Viasna, Belarus currently has 1,501 political prisoners.
Prohibiting embassies from issuing and renewing passports abroad is widely viewed as a way for the regime to further target Lukashenko's critics abroad, leaving them vulnerable to prosecution should they return to Belarus.
The new decree is not Lukashenko's first attempt at trying to stifle the regime's opponents abroad.
In July, a bill came into effect that permits authorities to revoke the citizenships of Belarusians living abroad accused of so-called "extremist activity" and "harming national interests."
In August, Tsikhanouskaya's United Transitional Cabinet proposed the creation of "New Belarus" passports, which would provide an alternative to those issued by the state.
Nobel Foundation cancels ceremony invitations to Russia, Belarus, Iran after uproar
The Nobel Foundation withdrew its invitations to Russian, Belarusian, and Iranian ambassadors for the Nobel Prize awards ceremony in Stockholm, Sweden, this year, reversing its earlier decision after widespread criticism.
While the foundation excluded Russia and Belarus from last year's ceremony due to Moscow's full-scale invasion of Ukraine, it announced on Aug. 31 that it would invite the co-belligerents and Iran to the upcoming ceremonies in December, citing the desire to expand dialogue.
"It is clear that the world is increasingly divided into spheres, where dialogue between those with differing views is being reduced," Vidar Helgesen, the Nobel Foundation's executive director, said.
"To counter this tendency, we are now broadening our invitations to celebrate and understand the Nobel Prize and the importance of free science, free culture, and free, peaceful societies."
The decision to invite the three states sparked an immediate uproar in both Sweden and abroad.
Several Swedish political party leaders said they would boycott the ceremonies, and the Swedish Royal Court said the king would reconsider attending.
Ukrainian Foreign Ministry spokesperson Oleh Nikolenko also condemned the decision: "Conveying the values of humanism to Russia and Belarus is a Sisyphean task. Efforts that will not lead to results."
"Most likely, on the day that the Russian ambassador is sitting in a nice suite at the Stockholm concert hall, the Russian army will commit another war crime in Ukraine's occupied territories, and Russian missiles will destroy another residential quarter in a Ukrainian city."
Meanwhile, Belarusian opposition leader Sviatlana Tsikhanouskaya called on the Nobel Foundation to reverse its decision, also demanding the release of Ales Bialiatski, a Nobel Prize laureate from Belarus who was sentenced to 10 years in prison on politically motivated charges.
Following what it called "strong reactions in Sweden," the Nobel Foundation said it would withdraw its invitations to the Russian, Belarusian, and Iranian ambassadors.
However, the foundation noted that they would still be invited to the ceremonies to be held in Oslo, Norway, as was the case in 2022.
New Swiss sanctions target Belarus' military, technology sectors
Switzerland imposed additional sanctions on Belarus on Aug. 30 for its continued involvement in Russia's full-scale war against Ukraine, bringing the country's restrictions in line with those of the European Union.
The new sanctions target over 40 individuals and entities related to Belarus' military and technology sectors and mirror those imposed on Russia.
The broadened sanctions also extend to a list of goods critical to Belarus' military and technological enhancement, including semiconductor devices, dual-use goods and technologies, and electronic integrated circuits.
They also apply to Belarus' aviation and space industries, and include export bans on aviation and space industry vehicles, turbojets, turbo propellers, and rubber tires.
The European Commission announced on Aug. 3 that it had restricted the shipment of "sensitive goods and technologies which contribute to Belarus' military and technological enhancement," as well as the export of firearms and ammunition, and goods related to the aviation and space industry.
Minsk says Poland violated its airspace, Warsaw denies claim as border tensions continue
Minsk claimed a Polish military helicopter breached Belarusian airspace on Sept. 1 – a claim that Warsaw vehemently denies.
"Belarusian border guards recorded a violation of Belarus' airspace by Poland in the Hrodno region's Berastavitski district," the Belarusian Border Committee claimed in a post that contained a video of the alleged incident.
"A Polish Mi-24 military helicopter crossed the state border at an extremely low altitude, flew to a depth of 1,200 meters into Belarusian territory, and then returned back (to Poland)."
The Belarusian Interior Ministry summoned Poland's temporary chargé d'affaires in response to the alleged incursion, saying it has "demanded that the Polish side provide an explanation and conduct a thorough investigation of the incident."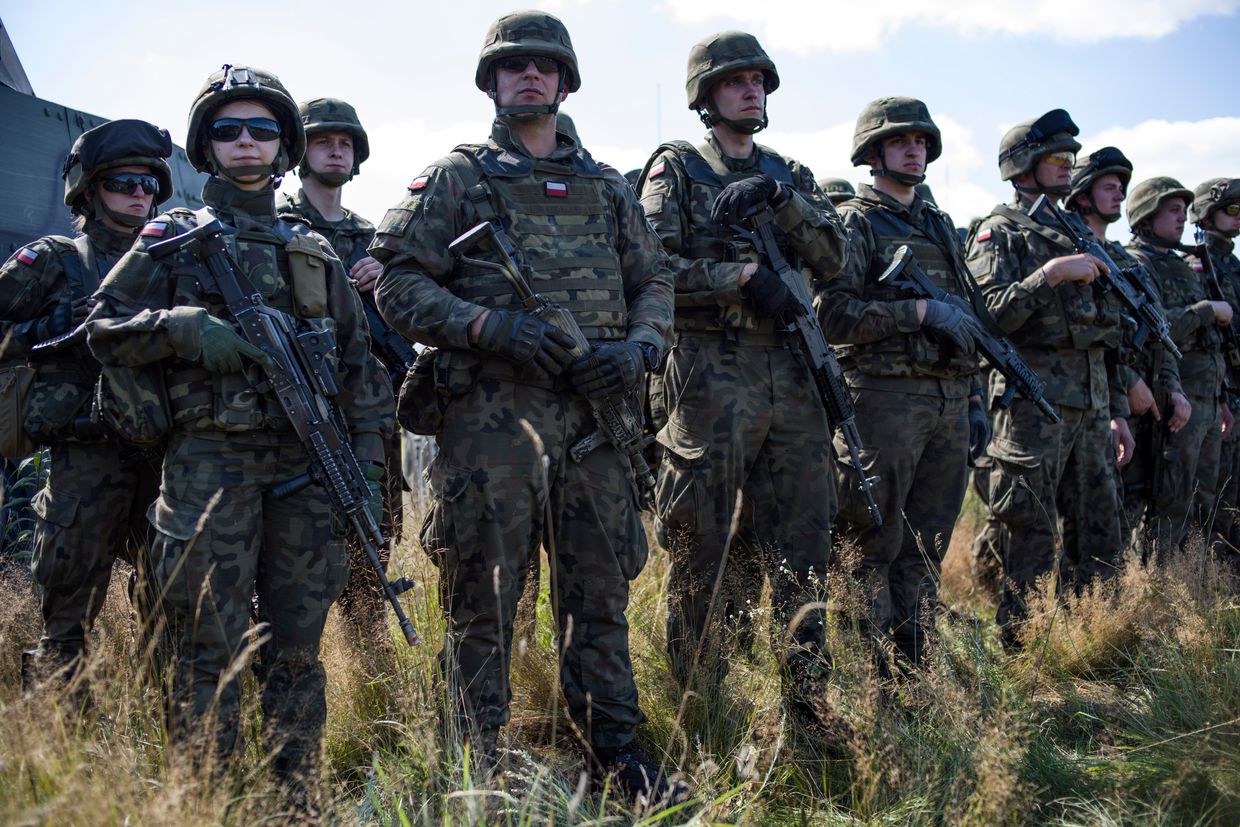 Polish Lieutenant Colonel Jacek Goryszewski, a Polish military operational command spokesperson, denied Minsk's claims, calling them "lies and provocations from the Belarusian side."
"I do not confirm this information. None of the Polish helicopters crossed the border into Belarus. Such a border crossing could not have happened and it did not happen. Our radar systems are unambiguous."
Meanwhile, Polish Interior Minister Mariusz Kamiński suggested the accusation was a response to Warsaw's report on Aug. 1 that two Belarusian helicopters violated Polish airspace during exercises near the border.
EU and NATO members Poland, Latvia, and Lithuania, which all share borders with Belarus, have expressed growing concern over what they call growing provocations by Belarus.
Just last week, the three states threatened to completely shut their borders with Belarus, citing the threat posed by Belarus and the Wagner mercenary group's presence in the country to their national security.
Polish Deputy Interior Minister told reporters on Aug. 30 that Warsaw would re-open some of its border crossings if the Wagner Group leaves Belarus and Minsk halts its engineered migrant crisis.
Lukashenko called the demands "groundless and stupid."
Ex-Belarusian 'death squad' member to go on trial in Switzerland
Yury Harauski, a former member of Lukashenko's special security forces known as the "death squad," is set to go on trial in Switzerland on Sept. 19 for allegedly participating in the forced disappearance of Belarusian opposition politicians in the late 1990s.
The case was picked up by Geneva-based NGO Trial International, Belarusian human rights watchdog Viasna, and the International Federation for Human Rights (FIDH).
The victims, Former Interior Minister Yury Zakharanka, former Deputy Prime Minister Viktar Hanchar, and businessman Anatoly Krasouski, disappeared between May and September 1999.
In an interview with Deutsche Welle in 2019, Harauski publicly confessed to his involvement in the unit that he says arranged the disappearances. According to him, the three men were targeted for opposing Lukashenko's regime.
Harauski said the "death squad" killed Zakharanka, Hanchar, and Krasouski, noting that he knows where they were buried, but that he wasn't involved in their murders.
Attempts by their families to obtain information from Belarusian authorities about their whereabouts have been blocked, and Lukashenko denied any official involvement in the disappearances.
In 2019, Harauski publicly confessed to his involvement in the unit that arranged the disappearances, although he claimed that he wasn't involved in the murders.
He sought asylum in Switzerland in 2018, settling in St. Gallen, where the trial will take place.
Human rights groups have called the trial "historic," saying it's a "decisive step forward" that could pave the way for future prosecutions of Belarusian officials.
Russian, Belarusian athletes to compete as neutrals in World Aquatics events
Russian and Belarusian athletes will be permitted to compete in World Aquatics events as neutrals, the sports governing body said on Sept. 4.
Competitors from Russia and Belarus were prohibited from international sporting events following Russia's full-scale invasion of Ukraine in February 2022.
"The World Aquatics Bureau recognizes the dedication, commitment, and talent of athletes, regardless of their nationality," World Aquatics President Husain Al Musallam said.
"Despite the challenges we face on the international stage, we acknowledge our responsibility to foster a competitive, fair, and inclusive environment for every competitor."
A maximum of one "individual neutral athlete" from each country will reportedly be allowed to participate per event, and criteria for participants include the absence of contracts with their countries' militaries or support for Russia's war.
The participation of Russian and Belarusian athletes, even under neutral flags, has been hotly contested.
In mid-July, the International Olympic Committee (IOC) announced it would not extend a formal invitation to the Russian and Belarusian national teams for the 2024 Olympic Games.
However, the IOC has not yet taken a decision on permitting them to compete as neutral athletes, with IOC President Thomas Bach saying they should not be penalized for the actions of their governments.
The Council of Europe urged the complete ban of Russian and Belarusian athletes from participating in the Olympics "as long as Russia's war of aggression" against Ukraine continues.
---
---
Belarusian sports as propaganda
The Spotlight segment provides readers with the historical context of contemporary events in Belarus.
As Belarusian national Aryna Sabalenka is set to become the highest-ranked women's tennis (WTA) player and the second athlete from Belarus to do so, there's not much excitement among Belarusians.
The reason for that is Sabalenka's inconsistent stance on Lukashenko's crackdown on civil society and Russia's war against Ukraine.
The tennis player condemned the violence in the early days of the protests in 2020 but failed to identify the forces responsible for it. In the following months, Sabalenka signed a pro-government open letter and was seen at Lukashenko's New Year reception.
She was also reluctant to voice her position on Russia's war against Ukraine until finally confirming at the press conference on June 6 that she does not support Russia's full-scale war against Ukraine, Belarus' involvement, and Lukashenko's regime.
Lukashenko's regime has used the country's sports federations and its athletes as part of state propaganda. For 23 years, Lukashenko headed the National Olympic Committee, only to pass the post to his oldest son Viktor.
The IOC did not recognize the appointment and cut financial support.
Besides the dictator's direct involvement, Belarusian athletes are often contracted by military or national security services. Famously, six-time Olympic medalist, biathlonist Daria Domracheva, was a senior KGB officer, the country's notorious security agency.
Sports media outlet Tribuna reported that from the rosters of the national teams for the 2024 Olympics, only the trampoline team is employed solely by the Sports and Tourism Ministry.
Every other team has athletes belonging to Lukashenko's law enforcers' or military structures.
Sport is Lukashenko's favorite toy: He plays hockey, publicly celebrates any victories of Belarusian athletes, and advises them on how to do their job.
The fraudulent presidential election on Aug. 9, 2020, divided Belarusian athletes. While thousands were marching in the rallies with a banner saying: "Athletes side with the people," others stayed silent.
On Aug. 16, 2020, Belarusian athletes set forward an open letter to Belarusian authorities demanding to hold new transparent presidential elections, release all political prisoners and protesters detained in the days following the election, as well as to identify and bring to trial those responsible for violence against the peaceful protesters.
Initially signed by 250 prominent Belarusian athletes, the open call has grown rapidly. By late November 2020, 1,132 athletes had signed the petition.
The Lukashenko regime retaliated immediately. Athletes started losing jobs and funding, were dropped from the national teams, or were physically abused.
At least 95 athletes have been detained for protesting, 20 were recognized as political prisoners, and 124 have suffered other forms of repression, including 35 athletes and trainers dropped from the national team, according to the Belarusian Sports Solidarity Foundation, an organization that helped Belarusian athletes opposing the regime.
The Belarusian regime tried to outweigh the opposition by publishing an open letter in support of Lukashenko and his regime.
The text of the letter said that Belarusian athletes owe the authorities for their successes. The list primarily consisted of sports officials, some athletes found themselves on the list against their will.
Amid tensions surrounding the International Olympic Committee's plans to allow Russian and Belarusian athletes as neutrals, the Belarusian Sports Solidarity Foundation called to reinforce the sanctions against Russia and Belarus, preserving the ban for athletes from these countries.
"All athletes from Russia and Belarus who either openly support Putin's and Lukashenko's regimes or prefer to keep quiet are used as a tool for propaganda glorifying the war in Ukraine and legitimizing the regimes," the statement reads.
Belarus' opposition leader Sviatlana Tsikhanouskaya supported the claim, saying that "athletes who support repression, falsifications and war in Ukraine should not participate in the Olympics. Neither under Belarus' official flag nor under the Russian flag, not even under a neutral one."