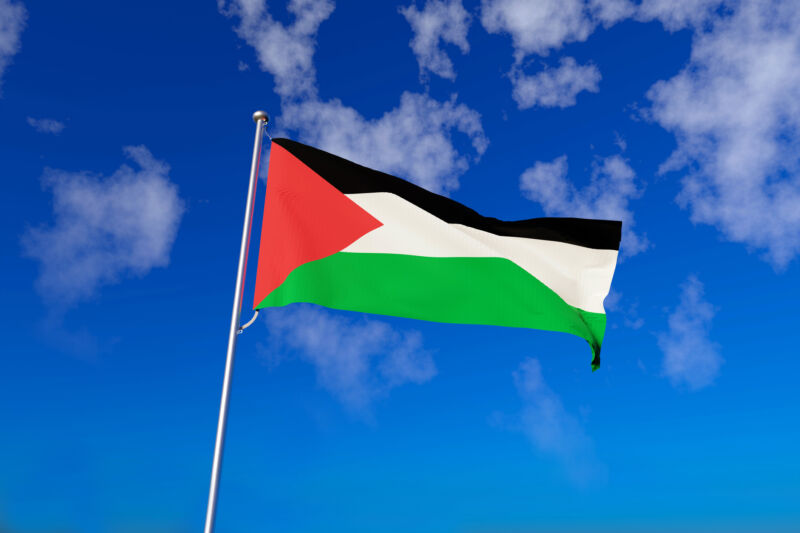 Meta has apologized after a 404 Media report investigating a viral TikTok video confirmed that Instagram's "see translation" feature was erroneously adding the word "terrorist" into some Palestinian users' bios.
Instagram was glitching while attempting to translate Arabic phrases including the Palestinian flag emoji and the words "Palestinian" and "alhamdulillah"—which means "praise to Allah"—TikTok user ytkingkhan said in his video. Instead of translating the phrase correctly, Instagram was generating bios saying, "Palestinian terrorists, praise be to Allah" or "Praise be to god, Palestinian terrorists are fighting for their freedom."
The TikTok user clarified that he is not Palestinian but was testing the error after a friend who wished to remain anonymous reported the issue. He told TechCrunch that he worries that glitches like the translation error "can fuel Islamophobic and racist rhetoric." It's unclear how many users were affected by the error. In statements, Meta has only claimed that the problem was "brief."
"Last week, we fixed a problem that briefly caused inappropriate Arabic translations in some of our products," Meta's spokesperson told Ars. "We sincerely apologize that this happened."
Not everyone has accepted Meta's apology. Director of Amnesty Tech—a branch of Amnesty International that advocates for tech companies to put human rights first—Rasha Abdul-Rahim, said on X that Meta apologizing is "not good enough."
This is not good enough @instagram. The fact bios that incl "Palestinian", 🇵🇸, and "alhamdulillah"were translated as "Palestinian terrorist" is not a bug – it's a feature of your systems. Just as "Al Aqsa mosque" was designated a "terrorist" org in 2021.https://t.co/M5mAUNmP6v

— Rasha Abdul-Rahim 🇵🇸 (@Rasha_Abdul) October 20, 2023
Abdul-Rahim said that the fact that "Palestinian," the Palestinian flag emoji, and "alhamdulillah" were translated as "Palestinian terrorist" is "not a bug," but "a feature" of Meta's systems. Abdul-Rahim told Ars that the translation error is part of a larger systemic issue with Meta platforms, which for years have allegedly continually censored and misclassified Palestinian content.
Amnesty International began monitoring these issues in 2021 when the organization began receiving reports of content and account takedowns on Facebook and Instagram after Israeli police attacked Palestinian protestors in Sheikh Jarrah, a predominantly Palestinian neighborhood in East Jerusalem. Amnesty International and several Palestinian civil society organizations soon found that hundreds of pro-Palestinian accounts were being blocked from livestreaming or having posts' views restricted or posts removed entirely. Some users' accounts were being flagged for "content simply sharing information about events in Sheikh Jarrah," or recommending things like "people to follow and information resources," Abdul-Rahim told Ars, while other content was "getting labeled as 'sensitive' and potentially upsetting."
After that 2021 controversy, Meta commissioned a report by a third party that "concluded that the company's actions had an 'adverse human rights impact' on Palestinian users' right to freedom of expression and political participation," TechCrunch reported.
Abdul-Rahim told Ars that it's clear that Meta did not take enough steps to adequately fix the issues reported then, which seem to mirror issues still being reported today.
"Now fast-forward to the current context of the Israel-Gaza conflict, we are seeing the same issues," Abdul-Rahim told Ars. The New York Times recently reported claims from thousands of Palestinian supporters, saying that "their posts have been suppressed or removed from Facebook and Instagram, even if the messages do not break the platforms' rules." Agreeing with Abdul-Rahim, experts told TechCrunch that the problem wasn't a bug but a "moderation bias problem," labeling Meta the "most restrictive" platform that's historically been guilty of "systemic censorship of Palestinian voices."
Meta denied censoring Palestinian supporters
In a blog, Meta denied that the company was restricting pro-Palestinian content. The company—which, like most platforms, has banned content supporting Hamas, a globally recognized terrorist organization—said that platforms have recently "introduced a series of measures to address the spike in harmful and potentially harmful content spreading on our platforms," but promised that platforms "apply these policies equally around the world" and insisted that "there is no truth to the suggestion that we are deliberately suppressing voice."
The blog reported two bugs that Meta said have now been fixed. One stopped some accounts' posts and Reels that were shared as Stories from "showing up properly," which led "to significantly reduced reach" of posts. Another bug "prevented people from going Live on Facebook for a short time."
The blog discussed other reasons pro-Palestinian content might have reduced reach on platforms, including Meta's reliance on technology "to avoid recommending potentially violating and borderline content across Facebook, Instagram, and Threads." Meta noted that any content that "clearly identifies hostages" is also being removed, "even if" it's being shared "to condemn or raise awareness" of the hostage situation. Platforms are also blocking hashtags when they are overrun by violative content, which could reduce the reach of non-violative content attempting to use the same hashtags. It's also possible that many users have used controls to see less sensitive content.
Meta reported that in the three days since the Hamas attack on October 7, Meta has "removed or marked as disturbing more than 795,000 pieces of content for violating these policies in Hebrew and Arabic." But Meta has been experiencing issues removing non-violative content since before then. Over the summer, Meta's transparency report showed that Meta found another bug that led to an increase in enforcement of non-violative content wrongly flagged as promoting "terrorism." Meta's spokesperson did not respond to Ars' request to comment on whether users appealing enforcement decisions have normalized since then. Meta's blog said that the solution, for now, is to stop accounts from being disabled while enforcement decisions are reviewed to ensure users posting non-violative content don't get locked out:
Given the higher volumes of content being reported to us, we know content that doesn't violate our policies may be removed in error. To mitigate this, for some violations we are temporarily removing content without strikes, meaning these content removals won't cause accounts to be disabled. We also continue to provide tools for users to appeal our decisions if they think we made a mistake.
Until Meta's content moderation issues are fixed, users have found ways to use code words to escape content removals, The Washington Post reported.
Abdul-Rahim warned that what Meta considers a moderation mistake, critics may see it as a human rights violation.
"Companies that fail to take adequate steps aimed at mitigating their human rights impacts risk contributing to serious human rights violations," Abdul-Rahim told Ars.
How Meta could avoid censoring Palestine supporters
Issues with Meta's content moderation "is all the more concerning and serious given the near-complete information blackout in Gaza where access to information and reporting is extremely limited, and further undermines Palestinians' ability to exercise their rights to freedom of expression, association and assembly online during times of crisis," Abdul-Rahim told Ars.
"This is unacceptable as the company should have learned and applied lessons from 2021—the fact that these issues continue to surface indicates the company is failing to take adequate steps to address these challenges, and that these issues are in fact systemic," Abdul-Rahim said.
Under international human rights standards, such as the UN Guiding Principles on Business and Human Rights, "social media platform companies like Meta have clear responsibilities" to identify and respond "effectively to risks," Abdul-Rahim told Ars. They also must take "effective measures to limit the spread of harmful content—the amplification of which can lead to human rights abuses," she said.
There are unexplored solutions to fix the problem, Abdul-Rahim suggested. On top of adding staff capable of reviewing nuanced discussions in Arabic and Hebrew, Meta and other social media companies "should use every tool available to them—including deploying so-called 'break the glass measures' aimed at dampening virality of problematic content—to mitigate the spread of hate and disinformation," Abdul-Rahim said. She also pointed out that part of Amnesty Tech's work is pushing for "an overhaul of the surveillance-based business model" that she said rewards social media companies for amplifying "the most harmful and inflammatory content." As Abdul-Rahim sees it, this problem will not be solved until Meta's business model changes and Meta is financially motivated to demote inflammatory content.
Meta has confirmed that its teams have been monitoring content more actively since October 7. But TechCrunch reported that while Meta may not intentionally suppress pro-Palestine content, its content moderation practices still seem to be disproportionately impacting users posting that content because "Meta struggles to navigate the cultural and linguistic nuances of Arabic, a language with over 25 dialects."
"Since the terrorist attacks by Hamas on Israel," Meta's blog said, "and Israel's response in Gaza, expert teams from across our company have been working around the clock to monitor our platforms, while protecting people's ability to use our apps to shed light on important developments happening on the ground."
These imperfect efforts do not seem to be solving the problem of censorship for everyone. Despite Meta fixing the bugs, Abdul-Rahim told Ars that Amnesty International is still "documenting cases of censorship online, including content takedowns, account suspensions, shadowbanning, and the spread of harmful and inflammatory content, including advocacy of hatred and incitement to violence."
While many social media users are calling for a ceasefire online, Abdul-Rahim said that "Amnesty International is calling on Meta and other social media companies to make fundamental changes to their business model and algorithms in order to tackle the root causes of the proliferation of harmful content online. States must also introduce and enforce effective legislation to rein in surveillance-based business models across the technology sector. Big Tech has proven itself incapable of doing so when it has such enormous profits at stake."