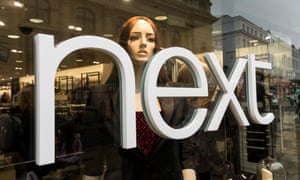 Good morning, and welcome to our rolling coverge of the world economy, the financial markets, the eurozone and business.
After an unprecedented year of disruption, UK fashion and homeware retailer Next has seen its profits halve. But it's also boosting its earnings forecast for this year, after strong e-commerce sales in recent weeks.
Next, which runs retail outlets and sells online, reported this morning that annual pretax profits fell to £342m in the 12 months to January. That's down from £729m in the previous year, just before the coronavirus pandemic struck.
Full price sales slumped by 15% — unsurprising, in a year in which stores were shut for months, and demand for smart clothing such as office wear and party outfits shrivvelled.
Chairman Michael Rooney says:



In last year's Full Year Results, published just as the UK went into lockdown, we stated that our sector was facing a crisis unprecedented in living memory. We also stated that our strong balance sheet and profit margins would allow us to weather the storm.

Both statements have proved true.
Rooney adds that Next expects the shift in consumer behaviour towards Online sales to continue for some time – so the company has been investing heavily in its web platform.



We accelerated part of our planned capital expenditure in the Online business, spending £121m on warehousing and systems.
And significantly, Next is also raising its profit guidance for this year, by £30m, after seeing a strong start to the year.
In its latest guidance to the City, Next says:
Total Brand full price sales guidance remains unchanged and flat against 2019/20 (a two-year comparison).
The anticipated end of the third lockdown in April5 is two weeks later than we had allowed for in our previous guidance. However, the profit lost from those additional two weeks has been offset by the benefit of the extension of business rates relief announced in March.
In the first eight weeks of the year, Online sales have been stronger than expected and are up more than +60% on two years ago. This overachievement plus the expected transfer of sales from Retail during the additional two weeks of lockdown, are expected to add £30m of profit. As a result, we are raising our central profit guidance by £30m from £670m to £700m.
Here's some early reaction from the Times's Ashley Armstrong…
..and the Telegraph's Laura Onita.
Also coming up today
Meal delivery chain Deliveroo is reeling from its dire debut on the London stock market yesterday. Shares in the company slumped 26% in conditional trading, in what the Financial Times has dubbed the 'worst IPO in London's history'.
Concerns about treatment of workers, and its path to profitability once the pandemic ends, weighed on Deliveroo (swiftly dubbed 'Deliveroops' by Twitter wags).
But more broadly, investors seem to be in a positive mood ahead of the Easter break, with president Joe Biden's plans for a huge new infrastructure programme boosting spirits.
We get manufacturing reports from the UK and across the eurozone this morning, and later from the US, which will probably also that activity strengthened this month.
Overnight, PMI reports from Japan and South Korea have shown that factory activity expanded in March thanks to solid demand at home and abroad — a good sign for the global recovery.
The agenda
9am BST: Eurozone manufacturing PMI for March
9.30am BST: UK manufacturing PMI for March
1.30pm BST: US weekly jobless claims report
3pm BST: US manufacturing PMI for March