Saturday Night Live mocked MyPillow CEO Mike Lindell after he was permanently booted from Twitter.
Lindell, portrayed by Beck Bennett, joined Colin Jost during a Weekend Update segment to discuss his ban from the social media platform for repeatedly pushing conspiracy theories about the 2020 presidential election.
After Jost noted that the baseless claims inspired the insurrectionists that stormed and ransacked the U.S. Capitol on January 6, Bennett's Lindell furiously pushed back.
"Well hold on there, Bucko!" Beckett's Lindell said. "I didn't inspire no insurrection, nobody! I'm just a normal American ex-crack addict turned pillow CEO and advisor to [a] former president."
Jost then asked about photographs taken earlier this month that showed Lindell, a fervent supporter of former president Donald Trump, carrying documents that referenced martial law into a meeting with Trump.
"Oh no no no, Colin. That was just a standard pillow meeting," Beckett's Lindell said. "Nothing to do with martial law at all. I just suggested the military overthrow the government, and look, if that's not democracy, I don't know what is!"
Beckett's Lindell went on to admit that he gets a lot of his ideas from his MyPillow.
"I'm not a politics guy, I'm a pillow guy," he said. "Before MyPillow, I tried sleeping on everything… dirt, cement, old man's lap, but I'll tell you what set MyPillow apart—it has fantastic political ideas."
"What's that, MyPillow?" he then asked as he snuggled up to his pillow. "Really? Wow! MyPillow said Dominion overran the voting machine algorithms… so that China could swing it for Biden, with Hugo Chavez, Kim Jong Un and Chrissy Teigen!"
After Jost remarked that he was "all over the place," Beckett's Lindell responded: "No, you're on crack again!"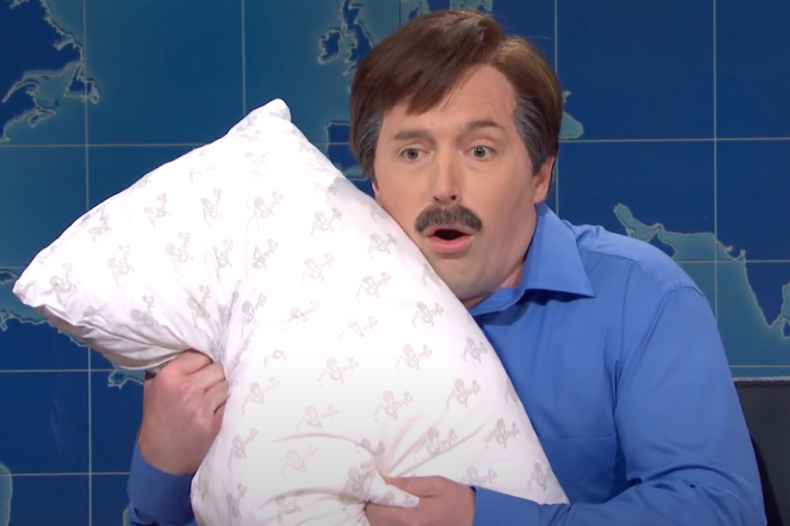 Jost then noted that Dominion was threatening to sue Lindell over his repeatedly pushing of voter fraud lies and that several major retailers recently said they will no longer stock MyPillow products. "Doesn't that bother you?" Jost asked.
Beckett's Lindell said "not at all" because people can buy his book, What Are the Odds? From Crack Addict to CEO, which he then proceeded to read an except from.
"My brain's on fire!" Beckett's Lindell then yelled at Jost, before adding: "Jane Krakowski's obsessed with me!"
Last night's SNL episode was the first since the show went on hiatus in December. It kicked off with a monologue that saw host John Krasinski share a kiss with cast member Pete Davidson.