Federal, state and local wildlife and health officials are launching a testing, trapping and vaccination program for wildlife in Douglas County in response to the recent identification of a stray kitten with a strain of rabies not normally found in the area.
The 1- to 2-month-old kitten initially tested positive for rabies Sept. 28 after it was taken to a veterinarian, said Lindsay Huse, director of the Douglas County Health Department. 
Further testing by the federal Centers for Disease Control and Prevention determined that the kitten, which had been found by residents in east-central Omaha, was infected with a raccoon variant of rabies that is not usually found west of Appalachia.
Health and wildlife officials' concern now is that the raccoon strain of rabies could become established in the area and lead to a significant increase in the number of rabies cases as well as the number of human exposures to animals infected with the virus, Huse said.
"Rabies is nearly always fatal," she said, "so we are taking all of the proper steps to make sure it doesn't spread or get established here in Douglas County."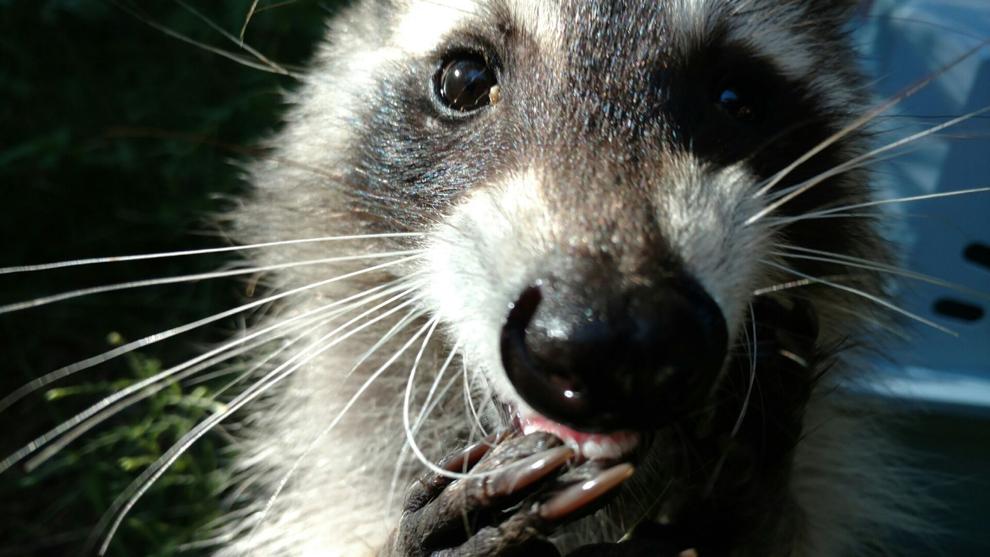 Not only are there a lot of raccoons in the county, Huse said, they also may interact with domestic animals. The virus, which is spread through direct contact with the saliva of an infected animal, also could infect other species, such as foxes, skunks and coyotes.
There are a lot of raccoons in Douglas County, and the animals also may interact with domestic animals. The virus also could infect other species, such as foxes, skunks and coyotes.
"The goal of our efforts is really about containing any spread of that rabies variant, and if possible, to prevent it from becoming established in our area," she said. 
To make sure that happens, Huse said, health and wildlife officials are seeking residents' help in several areas of the response. 
The U.S. Department of Agriculture, working with the CDC, will begin humanely trapping, tagging and vaccinating raccoons within a target area between F and Fort Streets and 72nd Street to the Missouri River. That area is roughly within a 3-mile radius of the location where the kitten was found. That area could change or expand.
Federal officials will send letters to households in the target area to seek permission to trap raccoons in their yards, she said. USDA officials also will go door to door in the area to ask permission to trap, starting as soon as Tuesday. They will wear uniforms and carrying identification.
Residents are encouraged to open the letters and answer their doors when agents who knock, said Alicia Hardin, wildlife administrator with the Nebraska Game and Parks Commission. The trappers need permission to enter private property.
"The more traps that are out there, the more successful we will be," she said. The initial goal will be to vaccinate about 1,000 raccoons. Vaccinating about 60% of the population is thought to be enough to keep the variant — if it is present — from spreading.
Huse said traps, which also will be deployed in parks and other public properties, will be set with bait that appeals only to raccoons. Opossums do not contract rabies. 
Separately, she said, residents of all of Douglas County are asked to call the Nebraska Humane Society at 402-444-7800 extension 1 to report roadkill, stray animals or wild animals, especially any animals that are acting in an unusual way. Animals infected with rabies may act lethargic, fearful or aggressive and drool excessively or stumble when walking. 
"It's really important to note that we cannot do this without your help," Huse said of area residents.
Residents also should make sure that their pets are vaccinated for rabies and monitor them when they are outdoors.
"This is not the time especially in the targeted area to let your animals roam free without supervision," she said.
Wildlife and health officials confirmed that the rabies vaccine given to pets is protective against the raccoon variant. 
Huse said she expects federal teams to be in the area for several weeks. "But the goal would be to set up some kind of surveillance that's ongoing for a period of time past those weeks to that we can ensure that we're not detecting any potential issues," she said. 
Huse said not much more is known about the kitten itself, including whether there are littermates or a mother cat in the area or whether it was brought from somewhere else.
"That is one of the reasons we are working so hard to contain this," she said.
The kitten was found in a resident's yard and given to another family. The kitten became ill a couple of days later and was taken to a veterinarian. It was acting aggressively, a sign of rabies. The veterinarian sent samples to a local laboratory for testing. The state reported the positive result to the health department, which contacted people who had been in contact with the kitten. 
Ten people who were exposed to the kitten have begun preventive treatment for rabies and are doing well, Huse said.
However, most cases of rabies in Nebraska are identified in bats. No cases had been identified in cats in Douglas County for about 20 years. Nebraska's state public health veterinarian, she said, "had a high level of suspicion" that the case was out of the ordinary and requested additional testing from the CDC. The local health department received the results Oct. 6.
Residents can call the health department's information line, 402-444-3400, for additional information.
Our best Omaha staff photos & videos of October 2023