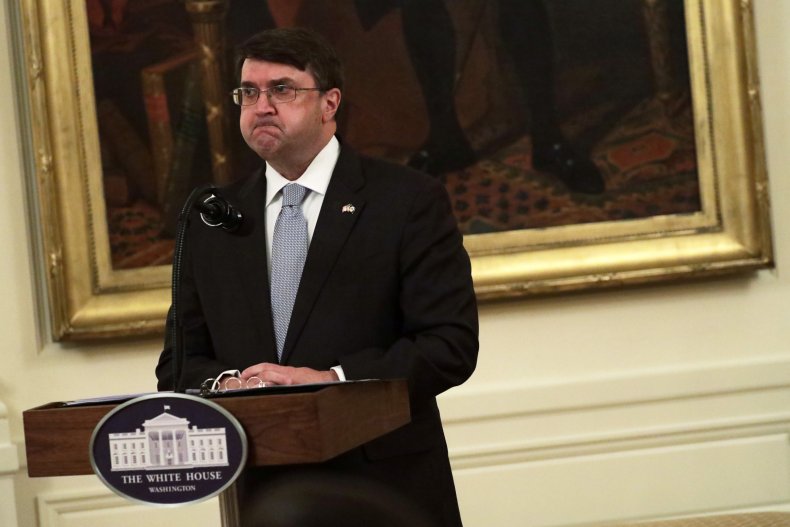 Six major veterans groups are calling on President Donald Trump to fire Veterans Affairs (VA) Secretary Robert Wilkie during his final weeks in office.
On Wednesday, leaders from the American Legion, AMVETS, Veterans of Foreign Wars, Disabled American Veterans, Paralyzed Veterans of America and Vietnam Veterans of America signed a letter urging Trump to remove Wilkie following a VA Office of the Inspector General (OIG) report about his handling of a sexual assault allegation brought forth by a disabled veteran.
"Our organizations have concluded that as a result of the Secretary's personal actions in his matter, he no longer has the trust or confidence of America's veterans and should be removed," the groups wrote in the letter. "The findings make clear that the Secretary himself established a defensive posture and made decisions to personally disparage the veteran and circumvent the subsequent IG investigation."
The OIG investigated claims that Wilkie had launched a campaign to discredit Navy veteran Andrea Goldstein after she alleged sexual assault at a Washington, D.C. VA medical center in September 2019. Goldstein is an adviser to Rep. Mark Takano (D-Calif.), chairman of the House Veterans Affairs Committee.
An investigation into Goldstein's claim was closed with no charges filed, possibly due in part to non-operational security cameras at the medical center failing to capture the alleged incident. Inspector General Michael Missal stressed to VA officials that the investigation had not determined that the claims were unfounded.
Wilkie then sent a letter to Takano complaining that "the unsubstantiated claims raised by you and your staff could deter our Veterans from seeking the care they need and deserve." The OIG investigation into alleged attempts by Wilkie and other VA officials to undermine Goldstein's credibility came soon after.
The report, issued last week, found that "the tone set by Secretary Wilkie was at minimum unprofessional and at worst provided the basis for senior officials to put out information to national reporters to question the credibility and background of the veteran who filed the sexual assault complaint."
"This is a tremendous breach of trust among veterans and Secretary Wilkie must be held accountable," the letter calling for Wilkie to be fired states. "His actions not only threaten to deter veterans from seeking care at VA, but also undermine the efforts of VA staff who have been working to bring an end to sexual harassment throughout the department."
"Mr. President, sexual assault and harassment have no place in the VA or our society as a whole," it continues. "As the Secretary has refused to take responsibility for his documented wrongdoing in this matter, we, the leaders of the undersigned veterans service organizations, call on you to take further action by immediately removing him from office."
Wilkie responded to the OIG report by denying that he did anything wrong, noting that the report had not concluded he broke any laws or policy while insisting that it was issued in an attempt to "score political points."
VA press secretary Christina Noel issued a statement saying that Wilkie "will continue to lead the department" while touting "landmark improvements in veterans' trust, quality of care and employee satisfaction" and a "historic response to the COVID-19 pandemic."
President-elect Joe Biden has indicated that he intends to nominate Denis McDonough, a former White House chief of staff during the Obama administration, to succeed Wilkie after he takes office on January 20.
Newsweek reached out to the White House for comment.