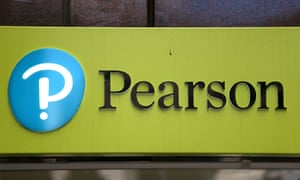 Pearson is to slash office space in a shift to more permanent home working, as the education company reported a slump in operating profits and revenues as schools shut and exams were cancelled last year.
Nevertheless, the company's shares jumped 5% in early trading, making it the top rise in the FTSE100, as new chief executive Andy Bird unveiled a restructure that will see Pearson transition to a digitally-led, consumer-focused model.
The ex-Disney executive, whose golden hello remuneration package immediately sparked a shareholder revolt at its annual meeting last September, said Pearson delivered a solid financial performance in the face of the pandemic.
Total revenues slumped 12% to £3.4bn and operating profits almost halved, from £581m to £313m, as its traditional assessment and education businesses struggled. However, the shift to home-based education provided an 18% to its global online learning business, which saw revenues climb from £586m to £697m, which the company said its new restructure into five operational divisions would aim to capitalise on.
The company said:



"The resulting strategy, based on a simpler, more agile operating model, is focused on three global market opportunities.

"The rise in online and digital learning tools, the workforce skills gap and the growing demand for accreditation and certification."
The company, which said the organisational restructure will cost between £40m and £70m this year, reported a healthy 52% rise in pre-tax profits thanks to the proceeds of the sale of its remaining stake in book publisher Penguin Random House to Bertelsmann.
Pearson, which employs more than 20,000 staff globally, has become the latest major corporate to announce that it is to drastically reduce its office space to adapt to the post-Covid working environment.
The company said that its plans will result in it occupying "significantly smaller square footage", a plan that will cost it £140m this year. The company intends to keep its headquarters at 80 Strand in London, and has already said that it is scrapping its office in High Holborn, although no further details of the plans have been made public.
Pearson added:



"As we change the way we work we will simplify our property portfolio and occupy a significantly smaller square footage which will be fully technology enabled supporting collaboration and creativity."
That chimes neatly with Andrew Bailey's comments about how the economy won't return to its pre-Covid state.