Pirola is being tracked because it is the most highly mutated version of COVID since Omicron, but so far it isn't a variant of concern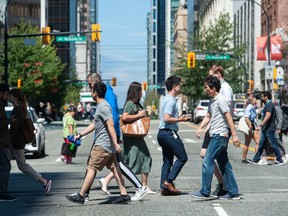 Article content
A new variant of COVID that has been detected in Canada and a few other countries is being closely tracked by health officials because it is the most highly mutated version of the coronavirus since the emergence of the Omicron variant of concern in 2021. After the initial detection of this new Pirola variant this summer in Denmark, British Columbia reported the first Canadian case on Tuesday, a single case in a person who had not recently travelled abroad, and is recovering at home, not in hospital. The National Post's Joseph Brean runs down the latest on this mutated strain and whether it is cause for alarm.
Article content
How did this happen?
Article content
Viruses mutate all the time, effectively every time they reproduce within a host cell, and sometimes those mutations lend a survival advantage that means the mutated kind replaces what came before. In the British Medical Journal, Francois Balloux, professor of computational systems biology and director of University College London's Genetics Institute, said the most plausible origin of this new variant known as Pirola was that a person with a weakened immune system was infected with an Omicron variant for a long time, more than a year, and in that time the mutations emerged within the single person, and then this new mutated virus spread back into the community. This mutated version "has since then probably been circulating in a region of the world with poor viral surveillance and has now been repeatedly exported to other places in the world," Balloux said.
What's the worry?
The concern is that this variant may be more efficient at evading the immune responses of people who have COVID antibodies, either through previous infection or vaccination or both. This is not to say these people are at greater risk of illness. It can, of course, also infect people who are neither vaccinated nor previously infected, and who therefore have no specific COVID immune response at all.
Article content
Why would it be worse?
The reason for that has to do with the unusually high number of mutations on the mutated virus's spike proteins, more than 30 compared to other common variants, more even than were discovered in 2021 on what remains the globally dominant Omicron variant. These spike proteins are what enable the virus to penetrate cells, a key step in their replication and the onset of disease. So if any of those mutations conveys a strong new advantage to the mutated virus, that could result in more cases or worse disease or both. COVID remains in circulation in Canada, with epidemiological data, such as hospitalizations and outbreak reports, suggesting a recent slight uptick in cases from a very low baseline. Health Canada reported on Aug. 29 that 30 people had died in the past week.
So is Pirola worse than what thousands of Canadians already have?
So far it does not look like it. Other important factors include the new variant's transmissibility and virulence, and there is as yet no evidence Pirola is particularly bad in either regard. British Columbia Provincial Health Officer Dr. Bonnie Henry and Minister of Health Adrian Dix said in a joint statement the strain does not appear to cause especially severe illness. The American Centers for Disease Control and Prevention offered similar comment. "Based on what CDC knows now, existing tests used to detect and medications used to treat COVID-19 appear to be effective with this variant," it said. "At this time, we don't know how well this variant spreads, but we know that it spreads in the same way as other variants."
Article content
Pirola sounds less terrifying than previous variant nicknames, like Kraken. Are they running out of mythic monsters?
The new Pirola variant is known to scientists as BA.2.86. Under the Pango nomenclature system, devised in the early days of the pandemic based on previous tracking of influenza evolution, that means it is the 86th generation of the second subvariant of BA. So a nickname is in order, to help people keep track in their minds. That practice started on a chat group of epidemiologists tracking the genetic evolution of COVID. First was Centaurus then Sphinx, Minotaur, Cerberus and others. The common factor was that the names were taken from astrology or mythology, and often both. Kraken, the XBB1.5 strain, is the most common subvariant in B.C., the provincial health officials' statement said. Arcturus, for example, has lately been spreading in the U.S. Pirola shares its name with a minor planet, an asteroid about 40 kilometres across called 1082 Pirola, which was also named for Pyrola, the mint-flavoured subarctic plant commonly known as wintergreen. The Greek letter convention is used for what the World Health Organization calls variants of concern, a broader and more serious designation. Currently the dominant variant of concern worldwide is Omicron, of which Pirola and the others are subtypes. Any future variant of concern sufficiently different from Omicron would be called Pi.
Alberta woman dies after being denied transplant for refusing to get COVID vaccine

Canada on track to waste up to 18M vaccine doses this year, with millions more ordered
Our website is the place for the latest breaking news, exclusive scoops, longreads and provocative commentary. Please bookmark nationalpost.com and sign up for our daily newsletter, Posted, here.